About Your Innkeepers
Graeme, an accomplished cook, and sometimes, a darn-good dishwasher, and his family are thrilled to invite all to enjoy the warmth and culinary delights of Little Traverse Inn. Graeme along with his kids, Ciaran and Gemma, will no doubt entertain all with a song or two whether you stay for dinner or for a while.
Graeme has long dreamed of bringing the best of his homeland to the Leelanau peninsula. By putting the needs of their guests first at Little Traverse Inn, they will bring to you quality food, great beer, fine wines and spirits, and warm hospitality; all served up with good cheer in unpretentious yet warm surroundings.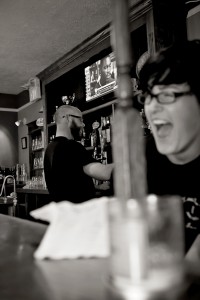 Graeme grew up in the UK and Ireland spending his formative years developing a taste for the traditional flavors of the "Old Country" which have been recreated with a unique twist both in our Gastro Pub and Bed & Breakfast.
Graeme has lived in Michigan for the last 34 years and called Grand Rapids home for the best part of 20 years. Having traveled to the peninsula almost every summer as a visitor, he is now incredibly happy to call Leelanau County his home, and keen to share his joy of hospitality with all his guests.
Graeme shares the daily duties with his amazing wife, Michelle, an incredible staff and his , Chelsea children Ciaran and Gemma, who will no doubt make sure you have everything you need for an amazing visit.
Call today to join the Leask family at Little Traverse Inn.
Phone: 231-228-2560
149 E. Harbor Hwy. Maple City, MI 49664